OUR VINEYARD SITES
THE INFLUENCE OF ORIGIN
Besides human influences, it is the grape varieties, soils and microclimatic conditions that give our wines their profile and authenticity.

In four vineyard sites with different geographical, geological and vegetative conditions, we cultivate wines that are clearly different in character and aroma, yet reveal their common origin.
---
LAND OF 1000 HILLS
RHEINHESSEN
Germany's largest wine-growing region stands like no other for the diversity of soils, grape varieties and climatic differences.
There are hardly more combinations of subsoil, slope, wind direction, solar radiation and precipitation than in Rheinhessen. This multitude of microclimatic differences is particularly reflected in our four small parcel vineyard sites.
Besides this diversity, defining the right grape varieties, lineages and weather-related different working steps in each case is what "terroir" means to us.
Vineyard: 11 hectares
| | |
| --- | --- |
| 34% | Goldenes Horn |
| 27% | Heerkretz |
| 26% | Schloßhölle |
| 13% | Martinsberg |
Grape varieties: 13
| | |
| --- | --- |
| 34% | Burgundy |
| 20% | Riesling |
| 17% | Silvaner |
| 29% | Other |
Age of vines
| | |
| --- | --- |
| 28% | <10 Years |
| 27% | 10-20 Years |
| 26% | 20-30 Years |
| 15% | 30-50 Years |
SITES THAT CAN BE TASTED
OUR TERROIR
---
SIEFERSHEIM
GOLDENES HORN
The subsoil of rhyolite at Golden Horn is covered with loess-pararendzina soils that are permeable to water and warm up quickly. Various slope and flat sites with different exposures allow us to grow full-bodied and fruity red and rosé wines as well as delicate and finely fruity Rieslings, Rivaner and Scheureben.
SIEFERSHEIM
HEERKRETZ
Among all four sites of our winery, the Siefersheimer Heerkretz is certainly the most famous one. A great site that, due to the rhyolite rock also known as porphyry, produces elegant, complex and exciting wines with a clear minerality. An exceptional soil for Rheinhessen, which accounts for only 1% of the total area. The Heerkretz produces our elegant Rieslings and Pinot Blancs with distinct mineral notes. A single vineyard with cru character.
SIEFERSHEIM
MARTINSBERG
The Siefersheimer Martinsberg on the eastern side of Siefersheim offers nutrient-rich and deep loess-loam soils, which store water well on the wind- and sun-exposed elevation and promote finely balanced fruit nuances. This is where our up to 47-year-old Silvaner vines grow, with roots deep enough to drive mineral extracts right into the grapes here as well.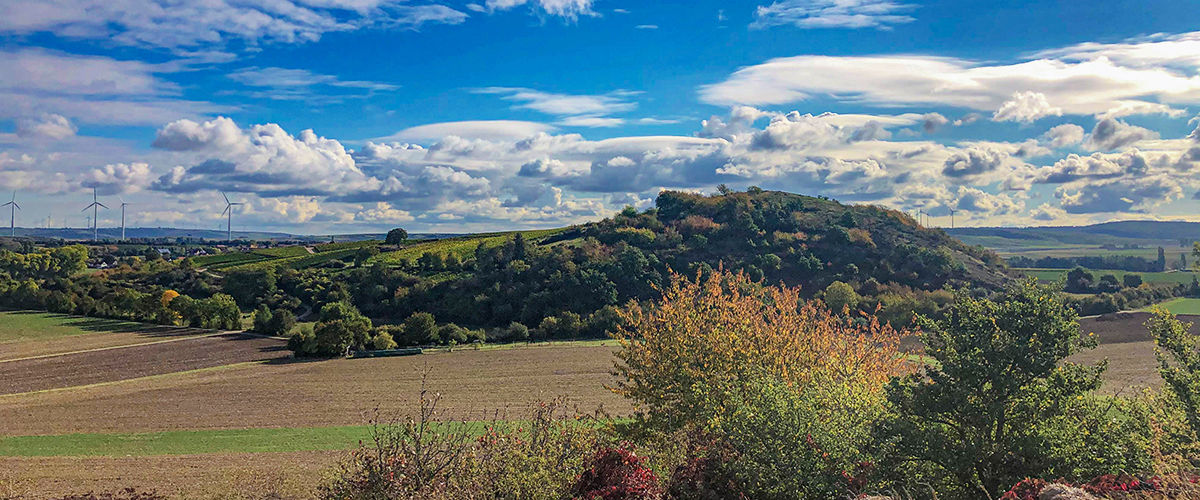 GUMBSHEIM
SCHLOSSHÖLLE
In our south-facing vineyards of the Gumbsheimer Schloßhölle, loose black earth with chalky clay marl offers ideal conditions for full-bodied, easily accessible Burgundy and aromatic bouquet wines such as our Gewürztraminer.