OUR PASSION
RHEINHESSEN WINES THAT TELL THEIR STORY
Unique wine experiences, created through the interplay of nature and mankind in balance between tradition and innovation, truly fascinate us. They motivate us to create wines that reveal their origin and to share their very personal stories.
Discover our 'Lagenweine' and have a glimpse behind the scenes with the individual QR-codes on our labels.
---
THE COLLECTION
OUR WINES
We create clear, elegant Cool Climate Wines.
In four differentiated lines we present expressive wines with balanced aromas and subtle accents.
Single-varietal, vegan and always with a personal touch.
Learn more about our four signature labels and our wine classification.
---
NEW FILLINGS
READY TO MAKE NEW FRIENDS?
The top wines of our bottling this year: fruity Chardonnay, crisp Pinot Blanc, mineral Riesling and a ripe Pinot Noir.
Experience our best vineyard sites.
---
THE VINEYARDS
IN TERROIR WE TRUST
Typicity and characteristic of our wines originate not only in precise craftsmanship and philosophy in the vineyards and the cellar. It's also the special match of the sunny and dry climate in Rheinhessen, the type of soil, the specific weather conditions and an appropriately chosen grape variety for the given conditions that make a wine distinctive.
Come along and explore the specificity of our four vineyard locations in Siefersheim and Gumbsheim.
OUR STORY
A CUVÉE FROM FAMILY TRADITION AND THE THRILL OF INNOVATION
Well equipped with a wealth of experience from a 200-year wine making heritage, we are ready to explore the novelties of the digital age with a forward-thinking approach and high awareness of environmental stewardship.
Meet the team, for whom wine is more than just a personal passion, but a family affair.
---
THE WINE MAKERS
A CONVERSATION BETWEEN TWO GENERATIONS
After more than 35 bottled vintages, Dipl.-Ing. Hans Joachim Gebert truly knows his wines and is happy to share his experiences with his daughters Anne, Hannah & Lara, who take their first steps in vineyard and cellar, now impacting the stylistic approach of our wines in the second year.
Hans Joachim & Lara Gebert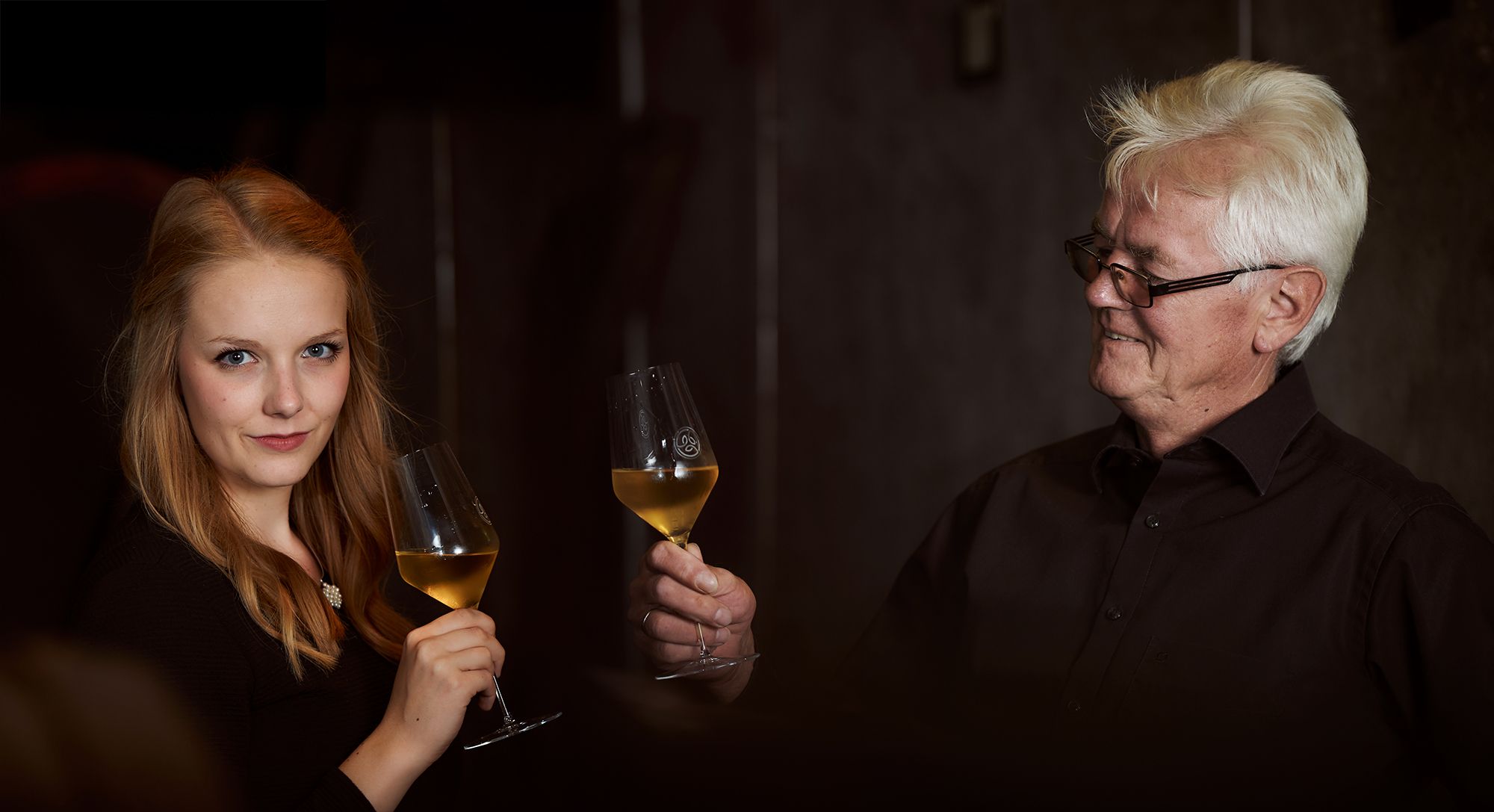 YOUR VISIT
WELCOME TO SIEFERSHEIM
To taste wine where it was grown and matrued, is a special experience, which we would like to share with you. We love to take the time to explain the characteristics of our wines and their production and to tell our personal story.
Come and enjoy a glass or two with us.
---
NEWS BLOG
MESSAGE IN A BOTTLE
On the great traditional date in the Siefersheim wine year, the open wine cellar days, our vineyard celebrates its birthday. From 27-29.8.2021
We are incredibly happy: From today we may welcome you again in good weather on Sundays and holidays (from 13:00) in our garden. You can expect our own wines, sparkling wines and juices as well as our picnic board with selected snacks to go with the wine. As in a Bavarian beer garden, you are…
Make your own wine! In this course you'll learn how it works and be there for all the important steps.
---
NEWSLETTER
LET'S KEEP IN TOUCH